I found several awesome Cardassian ships on this site.
http://www.moddb.com/mods/star-trek-armada-3/about
The people behind are a group of enthusiastic game developers so if you are into gaming, this is your place. I almost regretted not being into games myself while watching these beauties. But even as still images they look great. They also provided a nice description for each ship class, its purpose and capabilities. So, enjoy!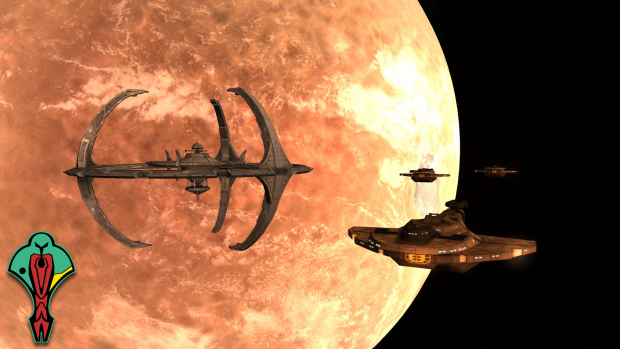 Here is the caption text for this image. These people really know the Cardassians.
"I always thought you should have been an artist. You have such a wonderful eye for detail. But you were determined to join the Order. You thought it was your duty to Cardassia. Personally, I think Cardassia could use a few more artists."
- Legate Tekeny Ghemor, lamenting the pitfalls of excessive patriotism
The Cardassians were once a peaceful people with a deeply rooted spiritual culture, but as their population grew the scarce resources of their homeworld began failing. Chaos reigned as shortages led to mass starvation and rampant disease, leading to the deaths of millions in one of the darkest periods of Cardassian history. As civilian governance crumbled, a coup at the hands of the Cardassian military led to the formation of the Cardassian Union, a totalitarian state presided over by the military's Central Command. The new regime marked an unprecedented cultural change for the Cardassians, who abandoned peace and spirituality in favour of patriotism and service to the state, which in time brought order to Cardassia.
Pursuing an aggressive campaign of expansion in search of resources and territory, by the 24th Century the Cardassian Union had made significant inroads toward establishing itself as one of the great powers of the Alpha Quadrant. Pragmatic, calculating and utterly ruthless, the Cardassian military follows a philosophy of the ends justifying the means. The greater good of Cardassia is sufficient justification for almost any action, from the suppression of civil liberties to the enslavement of less developed species. That said, despite the amorality of the Central Command's regime, the Cardassian people are also loyal, brave and noble in their own way, capable of great acts of compassion and principle, willing to stand firm and take great personal risks for what they believe to be right.
Though somewhat behind the other powers of the Alpha and Beta Quadrants, the Cardassian Union is tenacious and determined to seize its place as a galactic power."